Fishing trip in Japan

We are authorized travel agent in Japan specialized for fishing.
As you know we have four seasons here and can catch any kinds of fish through the year.
Please feel free to contact us and let us know your request.
Let's have fun Japan's nature.
◆What we can do for you・・・・
Fishing boat arrangement

What kind of fishing you are looking for ? Which fish species you would like to catch ?
We can inquire and arrange the fishing boat according to your request.

Accommodations arrangement

We can arrange you the accommodations depends on your request.
Near pier or near city or Onsen equipped... City hotel or Japanese hotel style you want.

Our escort attend service available

If this trip would be your first visiting Japan, you may need some supports here.
We can provide attend service to support your staying and fishing in Japan.
Meeting at airport and escort to your accommodation...
ome of fishing anglers request us to go look around for sightseeing...
Off course in the case if the fishing would be cancelled due to weather condition,we can support you to arrange alternative plan based on your request.
GT Fishing in Okinawa
We can arrange you GT fishing in OKINAWA.
Okinawa area is well known as 'Big GT's sea'
You can have chance to catch the world record class there !

Base city will be Naha at Okinawa Island where is the biggest islands at Okinawa,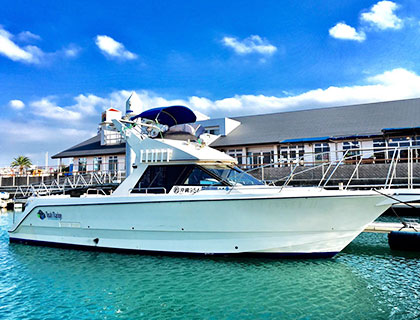 GT fishing Boat Charter
Charter fee for full day fishing
¥100,000~.
*Charter fee may be changed due to fuel price and fishing area.
*Fishing at outside area of Okinawa Island will be need additional charge of ¥10,000.
Included:
Full day charter = 9hours from departure to arrival at pier.
Round trip transfer service from your hotel to the pier.
Excluded:
GT casting Tackle set ¥10,000 (Rod,Reel,Line,Lure)
*In the case of submersion, loss, damage, breakage, etc.,
you will be responsible for the actual expenses.
If you need accommodation, car rent, staff attend (available Japanese to English translation),
Please feel free to contact us.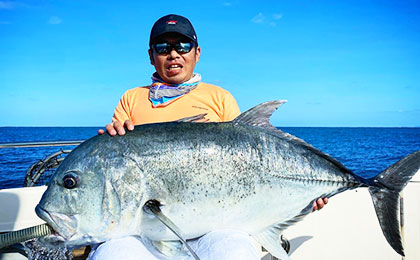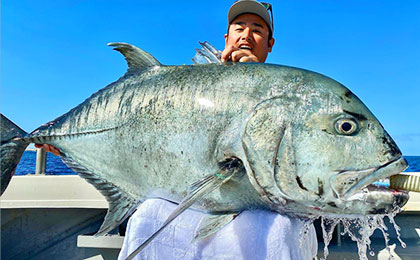 About Us
| | |
| --- | --- |
| Company name | Travel Pro International Co.,Ltd 'Angler's Nest' |
| Authorized Agent Number | AICHI 3-1226 |
Address :

RM302 3-5-1 Uchiyama Chikusa-Ku Nagoya Aichi Japan

Phone :

+81-52-784-5460

Fax :

+81-52-784-5470

Contact e-mail :

anglersnest@travel-pro.co.jp
Feel free to contact us
Plan
お客様のご希望
お電話、Eメールなどにてお客様のご希望スケジュール、フィールド、フィッシングスタイル等のご希望をお伺いします。

  日程の作成・お見積もり
お客様のご希望の日程、フィッシングスタイルを考慮しながらプランを作成し、旅行代金のお見積もりをさせていただきます。

お申し込み
ご希望されたプランのお見積もりをご確認いただいた後、ご納得いただけましたら正式お申込の手続きをお願いいたします。
手配
旅行のお申込の手続きが完了されましたら、手配を開始させていただきます。通常は手配開始後1週間程度で完了いたします。

日程表のご送付
旅行の7~10日前までに、最終日程表をお送りします。